Was the last contest an epic fail??
Not YET...
BUT...
This is it. Officially the last time I will beg you to play with me. A last desperate ploy to have friends without bribing them. Wait, I AM bribing you. This makes me sad, but also happy, because if it works maybe you will stick around for the after shows, which are ALWAYS fantabulously arranged and choreographically stunning, because I inhale the tangerine smelly markers before I perform, or maybe grape, it depends on which fruit item I have been lacking for the week, for me, it's all about being nutritionally sound when I kill brain cells.
Maybe it would be easier to make you love me if you were a puppy.
I could make a pork chop necklace and you would all look at me as if I was your queen and follow every move I make until I stop and you attack me with your love and bite my neck open for the juicy, but now a little tough pork chop.
BUT,,, you are not puppies. You are however, ALL very cute "like puppies" and still have that wonderful puppy breath that they should bottle up in a series of "aromatic memory enhancers" in a line from "Renuzit" called "Reduzit", the "Been there-smelled that" scent collection.
There would be other aroma sprays such as, but not limited to:
Baby head
Best friends stinky car
Gym class
County fair
Rock concert pot aroma
Glue
Tangerine smelly marker (or grape)
Meatloaf cafeteria day
Hot Jock locker
Favorite childhood pet Basset Hound fart
You know you want it now!!!
But, I digress.. Back to the task at hand..
Here is the deal, it's all about "idiom phrases" today, remember?
Id-i-om
n
A fixed, distinctive, and often colorful expression whose meaning cannot be understood from the combined meanings of its individual words, for example, "to have someone in stitches"
Whatever!
That definition was stupider than a one armed man, in a tree, waving!
I am leaving a very short paragraph and you fill it in with your idioms. There will be voting and mass hysteria. Justin Beiber will be a guest judge. I will read them to Justin and take the time to explain that this is a "safe" place and no hair flipping or pelvic thrusting is expected or necessary.
Bill Clinton is also scheduled to judge, but I will NOT have sexual relations with THAT man!
Bubbles the monkey is set to arrive and throw his famous poop on anyone NOT participating, I was going to invite "Boots" from Dora the Explorer, but cartoon shat really doesn't have the same effect and at least "Bubbles" poop might get ya a few dollars on E-bay.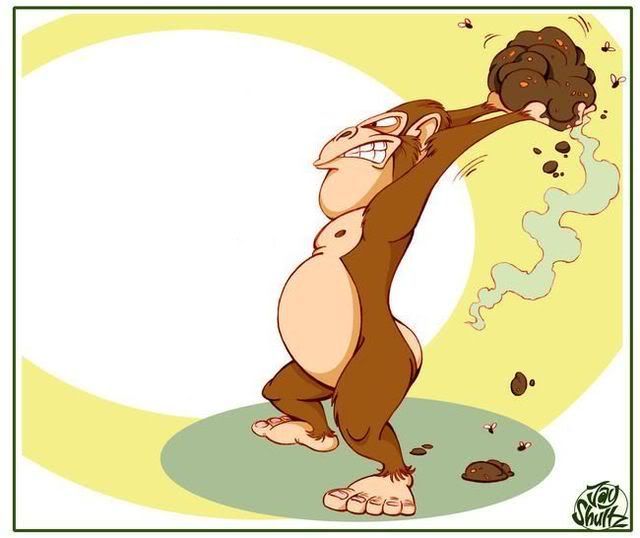 I tried ta told ya this would happen!!

My followers love to play with me! They're funner than a
(#1. insert idiom here)
! Everyday I wake up and look forward to their intelligent banter with me, I love it when they say that I am
(#2. insert idiom here)
! One day I would like to pick them all up and take them on a road trip longer than
(#3. insert idiom here)
. We would eat roadkill from Route 66 and laugh and laugh. The roadkill will smell worse than
(#4. insert idiom here)
, but all in all we will have a most wonderful time (except when that one follower has to pee every 10 seconds!! I swear their bladder is as small as a
(#5. insert idiom here)
.). I love my followers! That's why I will buy them all Ice Cream in any flavor they want (except banana), and hold them tight while I sing the theme song to "Beaches" softly in their ears. I think they are greater than
(#6. insert self serving idiom here)
. And I know a good
(restate noun from #6)
when I see it!!!
We will judge on overall idiom excellence and delivery. You have a few weeks to play.
I love you all more than an ant would love to have a miniature wheel barrel!!
P.S. No use ducking from Bubbles, he is a very accomplished shat aimer!!