isn't this necklace cute???
I just love it! I bought it because it reminded me of an old fashioned tattoo with stars around it. Almost reminiscent of the days of pin up girls. I love to think of myself as a pin-up girl sometimes. All women should try that, it was just the reserved sexiness that was hot, not letting it all hang out for everyone to see,,,, too obviously. Anyway I let my friend "CrimeScene" wear this necklace to the concert we went to.
Her cleavage was perfectly sparkled that day. She looked very pretty. A friend came up and complimented the necklace. We talked about it being a swallow ,,, he quickly said
"well do you
?"
.....I think it took me a minute to grab the essence of the statement (because I am so sweet and innocent).....and then I "got" it. Ok,,,,, it WAS humorous,coming from a friend,, we all chuckled..
I hadn't worn the necklace myself until yesterday. I was dressed very nice and all dolled up and it matched perfectly with the outfit. I would have thought that the above statement would be an isolated incident (based on the nature of the venue--concert--and with a friend) and that it wouldn't come up again. But it did.
Standing in the pet aisle at Family Dollar (by the way, have you seen my dollars family?? They have been missing for quite some time and I am worried!!).
A man behind me made that statement. I think I gave him "THAT" look,,,, the one like a puppy hearing a squeal...this one:
HUH?? WTF WAS THAT????????
Or maybe it was more like a disgusted kitteh: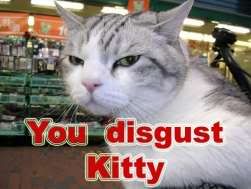 You do!!
I am a pretty open minded person. But saying something like THAT to a lady is a tad rude, dontchya think? Or is it just me. I mean had I been in a bar dressed like a stripper, I could see it. But at Family Dollar with kids in tow on mommy duty...WTF???

He then proceeded to follow me around the store until I finally snapped and said "Excuse me sir,,, me and my children are picking out SPAM, this takes concentration and we would not like to be disturbed by you!". (in a nice tone)..He still stood behind me in line for the register, trying to flirt, oblivious to his douchebaggedness.

No more PIPE pictures.. No more sexually explicit comments in the first 5 minutes of meeting me. Don't stink. Don't cheat. Be respectful. Brush your teeth. Understand we will have differences. Give me a MASCARA allowance. Laugh at/with me.. Be willing to be loved like you never have before. Be willing to return that love. Keep your fridge stocked with Green Olives and Green Jello and have a jumbo pack of Circus Peanuts on hand, at all times.

...And dance through this life with me...........

This is all I ask..............too much???????????

Please enjoy the story of a cucumber and his un-dieing love for a Manatee:



We could all learn a thing or two about love from that cucumber.......sniffle....