Ever hear a song at the right time?


Please play:








"Put another candle in the wind, it's just another thing that I can't fix..."

What "reason" justifies bad things happening to someone?
Don't tell me to be strong for my kids, because if I am not strong for me first, I will NEVER be strong enough for them. Don't I count?
I'll still light those candles in the wind even if I get burned.
"Play another game that I can't win"
I will play your game..... I will alter the outcome that YOU think YOU know already.
Shake your head and tell me you told me so....You told me I should give my son up for adoption...YOU told me I should abort him because it would be too rough on the girls and that I was being selfish..... selfish for what.... hoping for the best outcome?
"But I'm not leaving it like this"
I'll tell you that I am stronger than you will ever know. I'll tell you that I am scared but not because my world is collapsing.... But because people that were supposed to be on my side.... aren't.....They would rather stand back and watch me fall for the satisfaction of being right...
...If you end up being right.....do you get to use the pieces of my spiraling reality as your trophy?
"Maybe I should find the common ground, scratch another problem off my list"
I will never agree to do things that my heart stops at the mention of. I will not walk in your row with my head down or sit in your pew under the guise of a righteous judgment. My bed will be warm wherever it is. In my heart I will know I did the best I can, no matter how many pieces I end up in. Scars strengthen the areas around them. A stubbed toe will take you out.
After all is said and done, I would still pick you up, without judgment or consequence.
Does that make me strong or stupid?
"Make another note,
letters that I wrote,
...I guess you should have known,
I'd let you down"
You were right,,,,,, it is hard......BUT.......... I didn't let you down..........
.......you let me down

..........case closed.....


.........go "help" someone else......

"Don't you be so quick to count me out"

Round 10....Lets go....Where's the bell........
I don't need a break..lets do this...




Now bring me my damn "spit bucket"!!!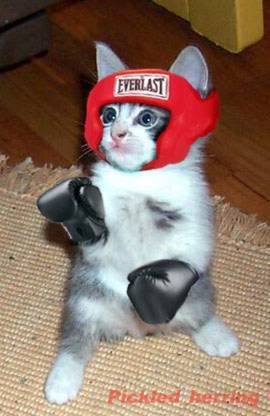 Comedy
will be resumed tomorrow........