I often feel isolated from the real world. It looks as if the world is passing me by in Technicolors and intricate sounds that ring around me like a childhood game. A little Red Rover, Red Rover with reality and fate, your faith trying to hold on to shreds of the vision of happiness and the promise of a better day. You call out loudly: Send it on over! Your sickness, the loneliness, financial struggles and doubts, I will bounce you back, yelping like a puppy, trying to strengthen once more, before I defeat you again in the next round.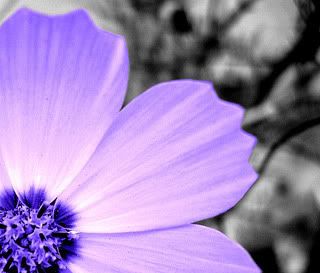 Easy to fall into depression when your world seems black and white, better to take the black and white images, watercolor them softly, making everyone long for your ability and secrets to survive. The book with tattered edges and stolen excerpts, feigned heroes falling and the weak shedding their fears is far superior in depth and deed as compared to the pristine tale with no twists of fate or loss of blood. Pristine novels, stay on the shelf, never to be opened, calling for the yellowing of pages, tears of missed adventures and stagnate waters of death.
A romance need not only be with a human, but with life itself, the sun and moon, river and ocean, all set tumultuously in their places for you to play within. A gift in the form of a butterfly crossing your path, whispering through the wind, enticing your smile, coloring life, is lost on the hopeless, staring down at their feet as they walk. You can find reward even upon stumbling, intricate pebbles, laced with color, after years of being thrown around in the turbulence of sand and water, now each one a polished and unique gem.
Take every sunbeam as your own, a beacon, enhancing your wonder and worth to this world, as a treasured and admired addition to the lives of those around you. When your hand is held, close your eyes and feel the life it brings to you, the bond to another, a most precious possession.
Hang your dreams on that star, but only when you feel tall enough to reach it on your own, until then, dreams can fuel you, hold them close to your heart. Nurture them as they grow and thrive, pulling together piece by piece, closer to the revealing of what once was a puzzle, yet now is priceless art.

Mountain tops, steep and stoic, lay in the pathways, haunting many journeys, but never halting the ones that matter most. An inspiring view from the top comes only after the strengthening climb from the bottom. You may stretch your arms out wide and twirl in the fresh crisp air of happiness many times in your life, but never forget what it took to get there, breathe it in slowly, selfishly, and then give it away freely to those around you who are gasping for air.