This is a short story I wrote a few months ago when I spotted an older gentleman in a store. When he smiled at me I felt as if I had received a great gift. The lines around his smoky blue eyes told wondrous tales of laughter and experience. As I was writing, I imagined this story as being his own. I hope you enjoy it!!!
It was a hot summer day and I was actually feeling very good for once. I haven't got much time left. The doctors sent me home so I could be comfortable. My sons take turns visiting with me and making me smile. They are a welcome distraction to the monotony of being ill. I beg them to bring the little ones and let them ramshackle the house. They feel it would be too much for me. I miss life and the pounding feet and squeaky voices of the children remind me I still am here in it.
Today I feel like getting dressed and sitting for a bit. So I put on my best dress white shirt and roll up my sleeves. I slip into a pair of navy blue dress pants and don my favorite bow tie. Being 89 gives me the right to wear a bow tie and suspenders and be considered a "cute" old man. I used to play that card at the buffet every Sunday after church with the ladies! I miss the ladies and I am positive they miss me!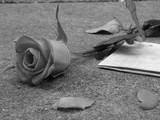 I lost my lady and the love of my life 4 years ago. It was the day I was sure to stop breathing myself. My wife took my hand and told me that I needed to stay because my sons still needed a father and the grand kids a grandpa. She joked and said that she could only imagine the trouble I would stir up if I keep spoiling them all. I told her not to worry, I would spoil them for the both of us. She warned me not to eat so much pecan brittle. I still find brittle that she had hidden for me in the house. Each piece of candy would be wrapped with hand drawn heart notes and scented with the smell of my angel, every time I found one after her passing I would smile and long for her to be near once more.
She left me aching and alone. My spouse of 57 years was the light of the world. There was no other love as strong as ours. I feel excited that I may be with her again soon. I miss the way she danced around the kitchen. She tried with all her might to be stern with me at times, but I could always get my way. She called me "evil " with a big wink when she spoiled me. She always spoiled me. I never felt I spoiled her enough, but oh how I tried.
Something in the house is odd today. My son is nowhere to be found and the nurse is not here. I have not been alone for so long it is kind of refreshing, but still strange. Walking toward the door I hear trumpets and drums. It sounds as if a parade is coming down our little street. How odd at this time of the year, down a little back road. I hear voices and laughter so I walk slowly to investigate and step out to my porch. People are crowded around the road. The image is in black and white. Balloons fly high in the air, although not in color, they are still a beautiful sight and I imagine each vibrant hue. The clothes of the spectators seem to be dated back and the faces seem familiar, yet strange. I walk toward the street following the hoopla. Looking back, my house has faded out of sight.
People are rubbing my back and congratulating me on my life. The parade ambles by and each scene is close to my heart. My childhood home, sturdy yet small brings a smile to my face. There is an image of my mother fawning over me at the dinner table with the vegetables she grew. Dad's hands stained with muck, calloused and holding a coffee mug, sipping slowly at the head of the table. The dinner is sparse but the laughter and stories, many. I am 7 years old and wearing my pilot hat with goggles. Under the table I grasp my most prized possession, a hand painted replica of "The Spirit of St. Louis" airplane. Charles Lindbergh inspired me to be a pilot. I lay dreaming of the day I would be alone in the cockpit of my plane doing loop-
de
-loops and feeling the wind on my face. It would be MY first solo flight and I would become a highly celebrated pilot.
A few years later things in the economy had gotten really bad. The great depression hit everyone hard. My dad was stressed and tried not to show us his worries. He still found time to play with us kids even after working for many days straight. Mom did the best she could throwing food together, she would not eat until she thought we were all full. Rocks and sticks were toys for us and brought us many wild adventures. Hard times can bring you together as a family, or rip you apart. I tear up as I am standing watching these images of my mother and father. They worked so hard to not let us stumble.
In 1939 World War II began. I enlisted to be a pilot. I was 19 and could not wait to leave this small town. My dream of being a pilot had always stayed with me. Things didn't work that way for me, I was thrust into combat. The brotherhood there was amazing, a
life changing emotional journey taken by many boys
.
One day I had to cover my mates by weapon while they escaped harms way. I lay a line of fire to the enemy and screamed at them to leave. They had all disappeared into safety, or so I thought. I tripped over my best mate Carl
Armsely
. His baby face staring up at me in shock was covered with dirt. Tears made clean trails down his shaking cheeks. His conversation led straight to his mother. He wanted me to take his tags personally to her. I cried as I tried to figure out a way to carry him to safety. We both knew his wounds were too severe and we were being surrounded. I thought carefully of his request and took the tags. When he slipped from me, I placed the tags deep in his boot, determined that he not be another "John Doe" soldier.
I visited Carl's mom first thing after returning from duty. I shakily told her of his request, we dropped to the floor of her stoop in a pile of tears together. It still haunts me to this day, her love for him shone so brightly.
The scenes of my life flew by fast. My wedding day and the view of my beautiful bride was a welcome sight. I smell the jasmine in the air from each toss of our pint sized flower girl. The dancing, music and love enveloped us, transcending all time. There was the honeymoon where we laughed like teenagers all night long while holding and exploring each other nervously.
The flight of the first US satellite "The Explorer 1" in 1958 amazed me to no end. A month after the launch my first son was born. This world is amazing, there are no goals we can not achieve. My son slept, as I watched him in awe and wondered what magnificent things he would contribute.
I was a factory worker and provided well for my family. It was not easy but we were contented with the simpler things in life. My hands were always dirty, this reminded me of my father with pride.
It was 5 years later that my second son was born, 1963 a year of turmoil. John F Kennedy was to be assassinated a few weeks before my son's due date. I questioned bringing a child into this world in such a state. I could have never known the extent and validity of that worry.
I met Jimmy Carter in 1978. It was the year he became our president. He personally thanked me for my service in World War II and presented me with a plaque. Tears of pride ran as I finally felt like the role model I had always wanted to be for my boys.
There was my last vacation bash in January 16, 2003 when my sons surprised me with a trip. We went to watch the final launch of the Columbia Space Shuttle. I wept in appreciation of a sight I never thought I would witness. The sky lit up in a grand display of achievement. I could feel my heart through my chest celebrating strongly, so proud to be an American.
By this time the faces around me grew more familiar. Carl was there, still a baby faced hero, he joked with me about our story filled nights and the fear we hid inside of them. We cried as we remembered his last day, he thanked me for being there with him. We grew from boys to men in those months, strong and proud. His mother gushed at his side.
My wife came up beside me and held my hand tightly. I felt complete again. My mother and father both wept at the sight of me, proudly.
I know what this is now, a rather grand storybook ending to my simple life. I was not a famous man, or a wealthy one, but I lived a wonderful and energy charged life with many amazing people.
I will now dance on with my loved ones by my side, not afraid, but deeply honored by the life and treasures I was given in this world. Each of us have been blessed with our own wonderful stories. We find ourselves learning and growing with each experience be it good or bad. We all have the ability to rewrite a few chapters of our books with the faith and perseverance of a willing spirit and an open heart.