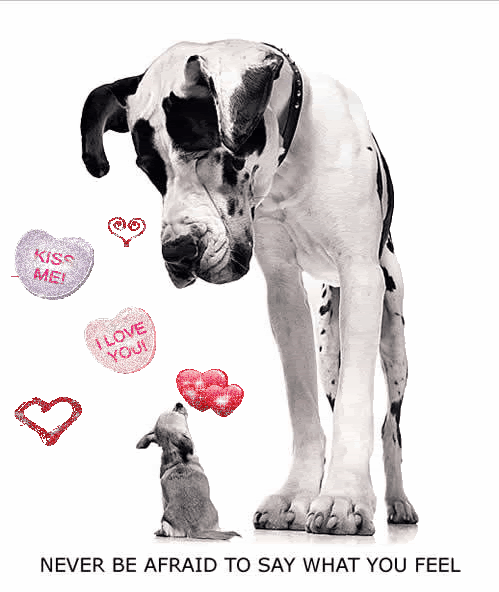 It's been quite a while since I "dated". Well.. it's been over half a decade. That's like 35 years in dog time,, but I am not a dog,, so that may be a bad reference,, although the tip of my nose does sweat a little when I am nervous and there may be some panting when I see a handsome gentleman,, and there is that slight matter of my paw flailing in pleasure if someone scratches in just the right spot.. (you guys got some dirty minds,, I was talking about behind my ears,, makes my paw thump and my tail wags I say).
I know that I took myself "off the market" for very good reasons. There was a very bad last relationship-- abusive, consuming and scary, there was my son being sickly, and then there was me getting very sick. Timing is everything and I felt I needed to just face things on my own. I had never been alone, there was always a man around and I felt like maybe I HAD to have that to survive. I know I was not a conjoined twin in a past life, so I was pretty sure I could survive without a man around for a bit.
After being married for over a decade my first tries on the dating scene were nothing less than harrowing. I started a journal called "The Chihuahua diaries", an overview of my dating experiences (this was way before every other movie or book out was about a stinking Chihuahua and it was actually a unique idea).
Onward to Sephora for Mascara and lipgloss I says!!
I felt a Chihuahua was a perfect muse because they can be incredibly flipping fierce,, standing up to a 2- ton Rotti and crap like that and then -BANG- in the next instance they are shaking and peeing themselves because a leaf fell in front of them.
I am like that:
----FIERCE----
But when it comes to certain things like being new on the dating scene.......
Eeeeeeeep!

I can't say I was not damaged goods when my Ex first left. Unfortunately I did not know "WHAT" the hell I was at that point. I poured my whole being into the kids, home and huge chunks on him for so long I was lost. I always was fantastically imaginative, this calmed with him. I always was a "floater" meaning I could glide from person to person with ease and fit in. I secluded myself with him. I was excelling in the "Stepford Wife" transition starter program. Being what I thought a wife should be instead of who I really was. He cheated numerous times, but I blamed myself, it HAD to be my fault right?
The first weekend without my kids I was terribly depressed and out of sorts. I decided to "go out". I climbed in the attic and pulled out my trusty purple fantastic Meucci. I had not played pool since we had been together, a sport I cherished and competed in before meeting him. I dolled up for hours, ready to go play a few games and drink a beer (gasp). I even let about a milliinch of sexy black bra show,, (safety pinned of course just to make sure)...
On the way to the pool hall I passed a tattoo parlor. "What the hell!!!!" I proclaimed brashly,,, lets do something NO ONE would EVER think my "Little House on the Prairie" ass would do. So I did,,, I bared the inner ankle of my right leg and chose a delicate scrolly leaf design with an eight ball in the center,,
(which probably wasn't a good idea because when I went to Jamaica I think the locals thought I was a coke dealer...eeep...I had NO idea!!)

I sat on that tattoo table trying to flirt with a young dreadlocked hottie and hold back my nausea. I really felt awkward being "out". But I was determined to play a game or two of pool...
I went to the pool hall freshly tatted and all hardcore YO..... Got quarters and a beer and fled to the very, very last table in the middle of dive bar Siberia, not making eye contact with anyone. Wasn't long before a herd of oxen came over and I awkwardly engaged them. "Maybe this wouldn't be too bad after all" I assessed. I still "had it" perhaps. This one guy was Uberly-hot, I mean it,, I frothed a little,, I did!!! And when he started to focus on me (yay me!) I was a bit giddy. We talked for all of ten minutes when he proceeded to conspire.
"You see that green Trans-am out there?
(couldn't make this stuff up,, it was a Trans-Am folks,, cheesy guys best pick up car eva,,, next to a black El Camino)
"Uh, yes, I do, it's uh,,,,, pretty" I said while releasing an awkward giggle.
"Well,, I will be in it in TEN minutes so we can go to my place" he said with no doubt I would SWOON and follow him like a Lemming.
"and..." I said totally clueless.
"AND..." he said nudging my ribs with a facial expression tainted with SMARM.
Let me consult Websters Dictionary to clarify Smarm..
Smarm
:
n (informal
)
1. Ingratiating or servile flattery
2. Charm that is distastefully self-conscience or insincere
Photographic Examples of SMARMY men: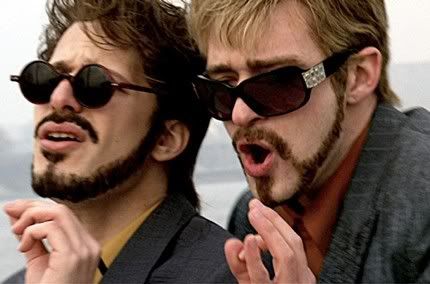 Now back to our regularly scheduled post,,, already in progress...

Smarmy guy says: "I am leaving in
TEN
minutes and YOU are going with me" with a crotch scratch/grab after swigging down a Busch with unfounded confidence.
Well my blog peeps,, I watched him walk out that dive bar door and from the window,, I watched him get in his chic-mobile Trans-Am and spray cologne on his fertile loins.
And what did I do? You ask, hoping I acted according to the by-laws of a "good moral" woman.
I checked that my chastity belt was still safely secure,,,,, and,,,,,,,
I went in the bathroom and promptly gakked.
Yes. Maybe it was the beer or the stress of an ending marriage. I knew that the thought of sex with a hot man should not have elicited
THAT
response,, But it did, because I was still broken.
SmarmyBoy ended up coming back in as I left. I tried to say something coy as he walked by,, but the gakking bug was waving "hello" vigorously at me again from my stomach and I made it to the bushes just in time to release the demons and run to my car in tears,, shaking in perfect Chihuahua fashion.
I went home, alone,, and watched family videos wondering where I had been for so long and who was I now and...
who's freaking tattooed inner ankle was this attached to MY leg??
I guess you wouldn't really have pegged me for somebody this weak and demure, but I was very sure that my future was being married and "safe" and I would never have to be out in THAT world again. My seduction skills were still teething. Now they BITE......(please insert biting sounds here and sing "maneater" in my honor,, then laugh at me)
Funny now,, I almost beckon those type of men to "bravely go where no man has ever gone" with the Seductress,,, (I am talking about my sewing circle on Thursday night after Bingo with Marge and Doris,, again with the dirty minds,, you should be ashamed!! Go to my room!!)
I can handle myself these days, but it took a while for me to get back there.
I think the next time I went out after that, I went out with my best gal pal I call "CrimeScene" and met a guy who was only known as "
Gumby
" (cue rolling laughter here).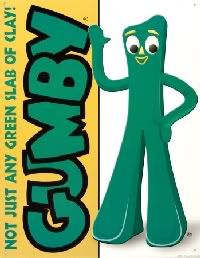 The home team was in for another rousing rendition of "
get the hell outta Dodge
" on that night.