Today I dyed my hair a little bit redder. As the dye fell to the shower floor and swirled around the drain I went to my "Psycho shower scene place" as I always do in that situation. I had yet to actually follow through with the acting out of this scene but today was not an ordinary day.
The "blood" mingled between my toes and I let out my best "psycho" scream. This is not smart when there are children in the house but mine know to expect the unexpected and were laughing as they ran in.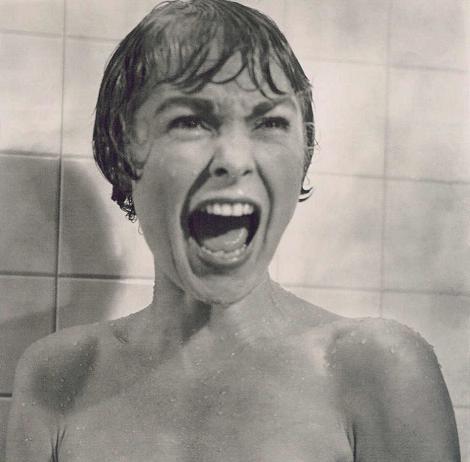 Me,, only I was cuter....wink,,,giggle,,snort
"I was acting out a scene in from a horror movie" I explained to them. "Scream queens have to have a convincing "signature" scream, that was mine." I said smiling.
"Well you laughed after it so that kind ruined it"
MsDebate
pointed out, and you ARE a little weird mom".
She is right ya know. I don't live by everyone
else's
rules. I kinda take the little "normal" things and turn them into little "fun" things. I don't know any other way to traverse this depressing life BUT to try and make every moment special in some way. If that makes me "weird", I am OK with that.
It's fun going places and smiling at everyone. Most people smile back, but there are those who just stare at you like you spit on them. I am not sure why they act
soooo
surprised when I DO spit on them (shrugging shoulders). I guess they hate their life or something. How could you look at someone in a negative way when they are just trying to be sweet to you?
My son is an entertainer. He rocks a
fauxhawk
and huge brown smiling eyes wherever we go. He is the one that screams "Rock on ladies!!" and shoots the hand sign when he sees a group of girls. He also runs up and tries to open doors for women (seldom being quick and successful because doors are freaking heavy). Most people love this because of the sweet nature behind it. But some people are in such a hurry that this irritates them and they grumble at him. In rare occasions some have even tried to push him away. So I quickly intervene and with a some what agitated voice say: "He is learning to open the door out of respect for a lady, I am sorry this irritated you, most
LADIES
appreciate it".
Traxx
doesn't pick up on their irritation and usually smiles and says "Thank you", which adds to the levity of a lesson THEY SHOULD take the time to learn,, but won't.
Today try and make a point of complimenting 10 people. Hair, clothes, smile, children, car, whatever just say something nice to them.
You'd be surprised how much that could really mean to someone having a crappy day, and surprised how good it will make you feel.
On another note... I want to ask a favor of you all. I want to start a question and answer series here on the weekends. Any random question you want an unconventional answer on just ask. Advice or whatever....Just ask....anything...............
Here are a few I have been asked recently:
Q: Were you dropped on your head as a baby?
A: Well thank you for asking. I, to my knowledge, was not dropped on my head as a baby. I did however have an older brother who put me in the dryer as a toddler and turned it on. As my head thumped continuously on the walls of the basin he nicknamed me "boom-boom head".
Q: Why didn't therapy help you?
A: Great question! I am assuming it didn't help because I sleep with my therapists and then CHARGE them for the services rendered (of course this is not true---the REAL reason it didn't help is between them and me and their lack of educational preparedness for my case, it's not ME it's THEM!!)
Q: Solve the mystery.....Circus Peanuts or Green Olives on a deserted island.
A: Brendan Frasier
See,,, that WAS a good answer (You're welcome!)!!!!!
I await your
pondering's
to
life's
greatest questions with baited breath and a lack of any actual life of my own...sigh.......until then........
Please enjoy this picture of two camels in a tiny car:
"Ooooh baby,,,, is that booty a mirage? Cause it sure looks
like a loooove oasis to me!!!!