So Jan Brady stopped by because I was talking about the conclusion to my IDIOM contest. She thought I said it was an IDIOT contest and wanted to nominate Marsha. I don't think those two will ever get along. I explained to her that you,, (my lovely followers and friends of all that is 70's inspired) will be choosing the winner of the contest. She said something like: "YOU, YOU, YOU!!!!!" and started sobbing as she pointed at you all, not sure what that was all about.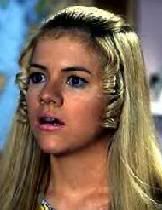 But,, she WAS all dressed up and even had those strange curly tendril things so I said she could stay and help.
Here's the dealio. Last shot at submission today. So if you had an IDIOM enlightenment seminar in the past few weeks maybe you should submit now. The prize is grand!!! The cat inspired Seductress artwork (featured to your right) that will be worth probably $1.50 after I die because things always skyrocket after the demise of the tortured artist,,, and because I have been eating too much SPAM lately,, death is probably the next logical step.
Excuse me for a moment.
(cough)
"Jan, why are you swigging my mouthwash dear?"
"I thought it was a bottle of Jack"
"Stop it, You're no KESHA!!"
"When are the guys going to show up for the IDIOM partay, partay?"
"There are no guys, this is not a par-tay,, and why exactly DO you have a ball gag???"
"I am open to new things,
unlike Marsha
, and when I finally do "DO" Greg, she'll see....
"She'll see"
(awkward silence)
"Is that a dead gerbil?
.....AND the cursed TIKI idol From Brady's go to Hawaii lure??"
"Uh, Jan,, why is your head spinning all Exorcistically?"
"Jan,,, Jan,,,
JAN
!!!!????"
"Wher'd you get that wig???"
"It's the NEW JAN BRADY BITCH!!!!"
"I remember that episode Jan, things didn't turn out that great for ya..."
(Jan begins to sing and dance and cry a 'lil)
"I feel pretty,, I feel pretty"
"Can someone please get Dr. Drew?? I need his help STAT!!"
(..............gulp......)
...submit your IDIOMS to the comment section below........
... or I will get Jan to follow your blogs....................................
My followers love to play with me! They're funner than a
(#1. insert idiom here)
! Everyday I wake up and look forward to their intelligent banter with me, I love it when they say that I am
(#2. insert idiom here)
! One day I would like to pick them all up and take them on a road trip longer than
(#3. insert idiom here)
. We would eat roadkill from Route 66 and laugh and laugh. The roadkill will smell worse than
(#4. insert idiom here)
, but all in all we will have a most wonderful time (except when that one follower has to pee every 10 seconds!! I swear their bladder is as small as a
(#5. insert idiom here)
.). I love my followers! That's why I will buy them all Ice Cream in any flavor they want (except banana), and hold them tight while I sing the theme song to "Beaches" softly in their ears. I think they are greater than
(#6. insert self serving idiom here)
. And I know a good
(restate noun from #6)
when I see it!!!
"I love you all!!!"
"..... and marshmallows!!"
"Get it???? You thought I was going to say MARSHA!!!!"

"Don't you just love my NEW braces???"

"Hold me"


Tomorrow you can vote on a winner.....and block your newest follower.......