I am a very patient gal. The heavenly light of sweetness shines around me and strengthens as it reflects off my super-deluxe edition halo. I can't see risking life and limb or proper etiquette rules in front of blossoming children to verbally assault another driver. But my kids were not in the car today when I encountered Asswiper Jones and his traveling business office.
Well, maybe I give him too much credit here, it was a broken down, twice-baked, dilapidated, work-truckish, business office.
(this is you asking....) "Huh?? Twice baked? WTF does THAT mean Seductress???"
First off this is a family blog, so only I can swear impetuously like that (laughing). What I mean by "twice-baked" is that it was formerly a van from another business and instead of painting the whole thing over, they spray painted over the OLD business name and added a stencil advertisement for the NEW business and Presto-change-o-rearrange-o "twice-baked" half-assed business fleet.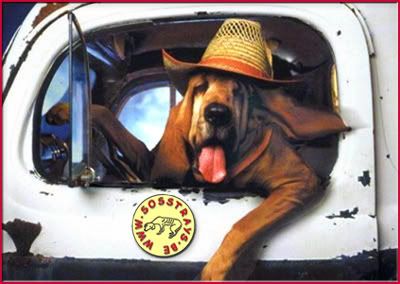 It's almost like when Bubba buys a Vacuum fixing business-to open up his tax preparin' office and decides to sub-let part of the shed to a taxidermist. What you gots there is an even rarer "thrice-baked" business operation!!
The business name on the building and stenciled to the singular "fleet" work-truckish thing would read:
Bubba
Sucks-On duty IRS Agents-Stuffed Wildlife
..and sandwich shoppe by Betty

What??? Bubba's wife is an aspiring caterer,, she wants in on the business venture too!!
Well that was a marginally disturbing detour......
Back to the losing of my "Road Rage" virginity...
I have never been a very good driver. Truth is I suck at it. You can find out more about that
HERE
. With that being said I never screw around behind the wheel because I am already and idiot..
But yesterday, when Asswiper Jones pulled out in front of me at a 4-way and then ran me off the road TWICE because he was talking on his cell and looking at a map, I experienced road rage. I let the first two things go because I really didn't have time for stress, but the last infringement of the happy little dividing lines, grated my patience into anger cheese.
THE LINES ARE YOUR FRIENDS!!
I saw my opening a few hundred feet up, there was a Snowbird was "touring" the road in his hoopdie, and I was in the other lane. I could jut out and pass Asswiper and then block him, forcing him into going the Snowbird warp speed of 2MPH! It was wrong, I know. But I felt a little free accosting the air with my irreverent sexual innuendo and layering on the adjectives with reckless abandon (plus AC/DC was playing and it makes me feisty and all hard core rockerchicish)!!
I watched him squirm in my rear view a few moments before noticing something I hadn't taken the time to recognize before. He was a hot mess! I hate hottie Asswipers because it's much easier to be mean to an Asswiper if they are ugly. So I let up and got out of his damn way and prepared for the aftermath of his anger.
As he got up to my side he was screaming, as soon as he made eye contact he stopped and he worded with his perfect mouth "I'm sorry". I fell into a 13 year old girl boy crush mush concoction. When we got to the stop light, there was no one behind us, he rolled his window down and I followed suit. This is our conversation:
Manly-Man: "I'm sorry"
Geek-girl: "It's OK, me too" (geeky shrug, giggle, slight snort)
Manly-Man: "You have beautiful eyes!!" (charming wink and smile with that little "shine twinkle" on his magnificently white teeth)
Geek-girl's thought bubble: Say something cool, say something cool, for God's sake be normal and say something cool.....
Geek-girl: "Uh, Thanks" (giggle, sigh, giggle, swooooon)
Manly-man: "Don't tell your husband" (verbal nudge)
Geek-girl's thought bubble: Be suave, work this, you're NOT married. He's a gorgeous Asswiper in a twice-baked,,,, say something sophisti...DAMMIT... light change...
HONK-HONK-HOOOOONK
"I-I gotta go" (geeky shrug, point at light and two finger wave)
He turns left as I go straight and scream for effect:
"I'M SIIIIINGLE !!!" (making the "call me" hand sign)
The words echo in my lonely car that is now filled again with the heavenly light of sweetness I gained back from apologizing for having road rage, a super-deluxe halo that has dimmed because I was thinking naughty thoughts about Asswiper and the sting of Karma for being such a freaking geek.
I call for a do-over!
Sweet Nectar from the God's (formerly Asswiper Jones) if you are reading this, please stalk me, I'm kind of a big deal (cough).