My youngest daughter (
DramaGirl
) wanted to do a short interview of me and put it on the blog. She very carefully put together some questions that are relevant to nothing and vital to no one, which is why they are so great. I will of course answer them with the greatest of poise and intelligence for you.
Q: If you could have any super power what would it be?
"Did you brush your teeth today?"
"Uh, Yes"
"REALLY???"
"Yes Mom"
A: If I had any super power in the world, I would be like "The Mentalist". I would KNOW if you brushed your teeth without asking. I would be able to look at you and yell at you BEFORE you actually DO what I am yelling at you about. Like when you decided to paint your dresser purple last week. I Would have totally changed your mind about the act before you took it to fruition and made me question whether or not I should allow you to ever eat cake, smile, ride a bike or do ANYTHING even remotely fun whatsoever..... EVER....... again!!! Had I had that superpower last week, you would probably be at Disney World right now in a new fabulous outfit complete with accessories eating cotton candy and laughing and laughing.

"REALLY!!!!!!??????"
"No, but you may have been able to play a video games on the computer, same fun level really."
Q: If you were any type of tree/flower what would you be?
A: My spirit is like the most fragrant of rose petals, dropped loosely from the sky, raining down on all who are lucky enough to dance under them.
Urrrrrrrrrrrp
.
"THAT'S AWESOME!!!!"
"I know!! I'm kind of a big deal!!!"
Q: If you had a dream where a giant cupcake murdered a muffin what would you do?
"HUH???"
"That's your answer???"
"No"
"Just answer it"
A: I would really have to consider what my appropriate action would be. I really think that pastry bigotry has been taken to extremes in the last few years. My initial reaction would be to blame the parents and find the 3 layer cake that dropped the parenting ball. But social stigmas are present in this as well. Video games the mini-muffins are playing, violent in nature, tend to idealize a loss of reality and veer toward the fantasy world. TV shows show over frosted pastries being chosen over those less seductively dressed making donut holes and other less gaudy pastry minis feeling unhappy with themselves. Plus, maybe this over sized cupcake was being ridiculed by the muffin, it's sad really. But the muffin deserves the "breakfast penalty" in my mind. Unless it's a corn muffin, and then it can do "dinner" slopped in chili or another
stewish
concoction
of comfort foody goodness.
"Weird"
"Cough"
Q: Would you rather have one eye or two noses?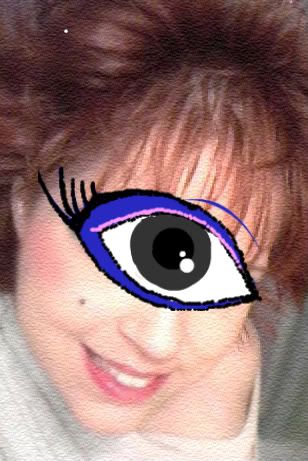 A: Oh this is a good one. I think I would rather have one eye. Because I think if I had one eye it would be proportionate to the size of my head and therefore would be a nice sized eye. A nice sized eye would have a nice sized eye lid for sparkles. A nice sized sparkly eye lid would have a nice abundance of eyelashes, eyelashes that I could mascara, with a nice brand of the blackest, black, lengthening, no spidery, mascara. It would be a fantastic eye! I could only "powder" two noses, that's no fun!! And I would smell your feet more.... and that's just straight up
nas T
!!
Q: As a pet would you rather have a kind dragon or a mean dog?
A: I already have a mean dog. I think it would be cool to have a kind dragon. We could both wear leather accessories and flaunt our
fantabulousness
around town.
S'mores
party
bon
-fires would be a daily thing. This would also be a great pet for going to
Walmart
. I don't think anyone would mess with a feisty gal and her dragon, no matter how kind he looked.
This concludes the interview. I hope you enjoyed it!
DramaGirl
and I would be thrilled if you answered some of her questions in the comment section below.