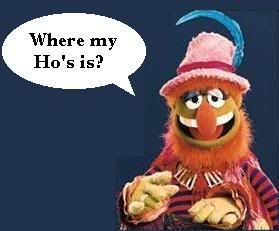 So--- Holy Hell--- I am addicted to this blog and my wonderful blog family-- Just
sayn'
up front-- I will not stalk you-- but I think you are all fabulous--
OK
-- maybe I'll stalk a few of you-- but in a non-threatening-- girl next door crushing way-- which means I have to wash your car-- bake you chocolate chip and peanut butter cookies-- compliment you every moment on your perfectly wind swept hair--and-- beg my mom to get my braces removed because the braced girls get no play-- I may also show up at your place at awkward times-- looking awkwardly at you-- tilting my head like you were gonna kiss me-- but you don't-- so then I leave-- and-- cry on my favorite stuffed hippo-- and-- realize that now-- I am SO embarrassed-- I don't think I can face you ever again-- and-- that reality-- just makes me even sadder-- so I eat copious amounts of milk dunked Ho-Hos by the light of my computer-- peeling each individual Ho carefully and methodically for maximum Ho Ho enjoyment-- whilst I doodle "I heart you" 10,000 times using a different sparkly pen color for each letter-- but then-- I realize
it's
really NOT sparkly enough for my taste-- so-- I run down stairs to get
Elmer's
glue and many glittery things from the craft drawer-- to fix it-- but-- I also find little pink string Pom-Poms that I deduce can be glued on the corners of each page-- because your "I heart you" drawings must be classy and wonderful just in case you ever see them-- and-- if you DID see them-- surely we would laugh together about how stupid you were for not kissing me that day-- and when I show you the pictures I had made of what our children will look like with the combination of our superior genes,, you'll get all happy and Kissy-faced --and-- we can dote on how great it is that we finally found each other and you FINALLY stopped having me arrested-- and-- now that you accepted that I am the best thing that EVER happened to you-- we can live happily ever after whilst the bluebirds eat individually shelled sunflower seeds from our hands -- and-- sing us happy love tunes everyday whilst a rainbow arches over our mansion!!!!!

So where do you live again?

I just need the street address so I can Mapquest and Google Earth you,,,, also,,, I am going to need you to "Friend" me on Facebook and change your relationship status to: In a relationship with The Invisible Seductress, I'll post our love pictures right now....

P.s. This post is just trying to be a clever

Thank You

for all the nice comments and well wishes. I am not, nor have I ever been, a crazy stalker. The Judge has ruled that when I am in stalking mode, I am completely sane and I can not use

mental status

as a means for a lighter sentence next time.



Please enjoy my new theme song "Hot Mess" by Uncle Kracker...
.....and a little "Jake" for the ladies:



Doctor, Doctor can you save me??

I like my posts a little crazy.....

On an unrelated side note- I have been using the word WHILST a lot lately..What's up with that?