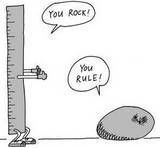 I has dem!! Well no, I did not REALLY have the physical manifestation of an "sexual" orgasm, but, I did have a pretty cool "Orgasm of the Soul" (you should try one,,, they're magnificent!!).
Traxx started VPK this week. He is psyched about being a "BIG BOY" in school now and some of the "baby" things I used to do for him are being shrugged off in his newly found independence. But the bedtime "snuggle bear" is still fully in tact ( I think more for me than him). His hair was looking all "Bieberish" so drastic measures needed to be taken. I would have him shorn after "school". Right by his school is a Barber shop and since I was early and they were open, I decided to go ahead and get it done there.
I walked into a bevvy of hot Latin men or as I will now refer to it: Heaven. I
lust openly over
really appreciate me a nice hot Latin man (grrrrrrrr). But they were hardly "MEN" most were terrifyingly younger than me and all were fluently speaking Spanish. Now in my swizzly, swirly weird genius mind, in situations as these, tends to wander a bit into the land of "Seductressville" (population me). I tend to "imagine" that all of these "R" rolling hotties were admiring me in impure ways. Reality dictates that this is NOT the case, but, meh, who needs reality, I like my world better.
We were ushered into Adonis's chair and I told him that my son needed a faux hawk from a hair artisan. He was
trying to hold back his longing for me
professional and courteous. The Spanish talk about my fabulosity (hidden cleverly as small talk) continued until the young man next to me complimented my hair,, and then my sparkles, this is where the happiness orgasm happened. I made a comment about trying to stay young with the fun spikes
and sparkled cleavage that he clearly admired
. He smiled and touched my arm, I gushed and blushed like a school girl until the guy cutting Traxx's hair waved his hand in front of my face to ask
if I would join him in the back for a romp
what size clipper to use on the sides. I then disclosed, in a playful whisper, my age (cough-boo-hiss). The room gasped. And the youngster went on and on about how I did NOT look 40 and asked if he could say something "respectfully" to me. I stuttered:"Yes, please". And he said" "You are a very beautiful woman". I think when he hits puberty he will do very well with the ladies!
The moral of the story (besides me lusting over a handful of men) is:
It's hard to imagine what simple words like those spoken respectfully by a stranger can impact your day in such a positive way. And here with me having all of the health and life issues something that simple really just made my steps "floatier" and my smile brighter. You never know what that person in front of you in line is dealing with. A quick "You look very nice today" or even a "nice shoes!" can lessen the blow of a shitty day somehow. It only takes a moment to compliment someone and you never know what effect it has on them. Times are hard and simple gestures are FREE and not used often enough.
Follower Homework Assignment:
Go out and compliment at least 5 people today and see how it makes you feel. I bet you'll be surprised that it actually makes YOU feel good too!!