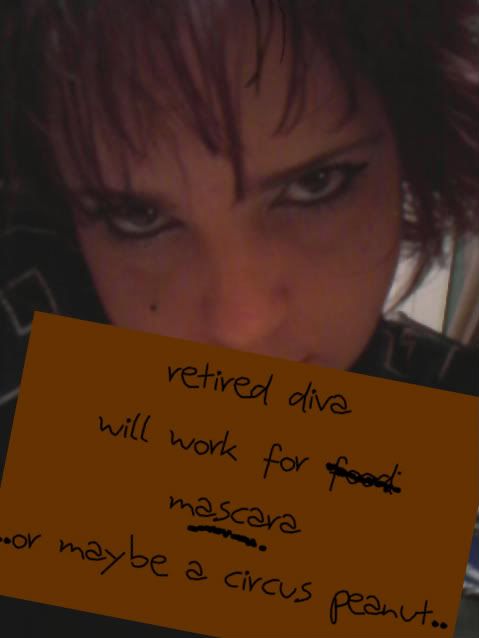 I have been struggling to figure out what the heck I am going to do for living arrangements. I don't have very much time left here and I am a bit worried. I have begun a journal of ideas that would hopefully help me through the first stages of hobo life. I assume those first few months are the hardest, getting used to a new routine and all. I had thought of applying for every reality show possible that offers a place to stay for 8 weeks. But the thought of living in a house with Flava Flav brings me to tears and if the doucheypants Bachelor didn't give me a rose, I may have to spike his celebratory toast after elimination, and then I would end up in jail wearing an orange jumpsuit. FYI: Orange jumpsuits don't look good on anyone, even a Seductress such as myself!
I decided to make my own reality series, I call it:
There is no doubt in my mind that Mark Burnett will be knocking at my cardboard flap door with Jeff Probst in tow to talk about a contract. There would be a lot of events to test the fortitude of every contestant. We would have immunity challenges such as:
Shopping Cart/Roadkill Bar-B-Q
: Contestants must steal a metal shopping cart, build a fire and cook animals found within a mile radius of their "home" underpass on the shopping cart grate. If the judges can not accurately determine what species is being served, and it tastes like chicken, that contestant wins! If maggots are presented with the meal and are not cooked through, the contestant will be immediately eliminated.

The Underpass Roll
: In this battle, the contestants will lay vertically under the top of a concrete bridge underpass. The contestants will over time succumb to slumber as this is an endurance challenge. One by one the contestants will fall asleep and roll to the bottom of the hill, playing "Frogger" with oncoming traffic. The last contestant at the top wins immunity.
Hollywood Hobo
: Each hobo will be taken to a gas station bathroom in which to perform a glamorous make-over on themselves. They are expected to bathe, apply make-up and style their hair. They will be given trial sized containers of shampoo and conditioner as well as a bar of soap and a "hobo specific" colored cosmetic palette (camo greens and browns). Each hobo will also be allotted 10 minutes with the air hand dryer to style and dry their hair. A guest judge from the gas station, a trucker named Bubba, will decide who has had the most dramatic change. Not only will the hobo that wins the challenge get immunity, they will also spend the night in the lap of luxury (Bubba's truck cabin).
No Pee Is Good Pee
: This is a challenge to test the social game of our players. Each hobo will decide who in the game they would like to eliminate based on their own personal experiences with that individual hobo. The hobo's will then decide who's cardboard box they would like to pee on. The hobo's home with the least urine penetrated walls, wins immunity.
Hamburger Round-up
: Hobo's will vie for attention in front of the fast food restaurant of their choice asking for hamburgers. The hobo with the most hamburgers wins.
Extreme Box Make-over
: The hobo's will be given free run at a U-haul store where they can take as many cardboard boxes and miscellaneous moving supplies as they can carry. They will then have 24 hours to pimp their box! The hobo with the best diggs wins immunity.
Trash Can Fire
: Each hobo will be given a trash can and 30 minutes to collect burning material and start a fire. The hobo with the trash can fire that the most downtown hobo's gravitate to and drink copious amounts of alcohol by, will win this challenge.
At hobo immunity, each hobo has his own trash can fire burning behind him or her. Trash can fires represent life on Last Hobo Standing. When they are voted off, Jeff Probst will dramatically extinguish their fire and say:
The Underpass Hobo's have spoken!
The eliminated hobo will be given a home because it is obvious that they are not able to survive as an actual hobo. The winner gets nothing but the title of :
"
Sole Hobo Survivor
"
and the bragging rights of being:
The Last Hobo Standing!!!!

Coming winter of 2010!!

Check your local programming guide for channel and times.